PLEASE SEE MAIN Pig Iron website at Pig Iron Press ( http://www.pigironpress.net/ )
---

return to Fowler page return to Ludwig Studio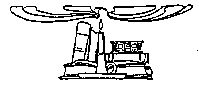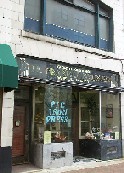 26 North Phelps Street,
P. O. Box 237
Youngstown, Ohio 44501-0237

Phone: 330-747-6932
FAX 330-747-0599
Email: pigironpress@cboss.com

Established 1973


Published titles: 52
Current catalogue: 21
Backlist: 24
Out of Print: 7
ISBN prefix: 0-917530
ISSN 0362-5214: The Pig Iron Series
Pig Iron Press
Pig Iron Press is a trade publishing company that is indexed and circulates internationally. Areas of interest center in the Humanities, including Poetry and Fiction; the Fine Arts; History; Living History; Education; Scholarship; and Critical Study. Founder, Publisher, and Editor is Jim Villani.
The Pig Iron series of freelance authored general and thematic anthologies was introduced in 1975. Number One, assembled in 1974, featured 32 writers and artists from the Midwest, randomly matched. Number twenty, forthcoming, presents 123 national writers and artists commenting on, studying, or imitating Greek and Roman Culture, and its continuing impact on society, the arts, the scholarly disciplines, government, and warfare. In twenty editions, the Pig Iron series has assembled over 1,200 writers and artists offering articles, fiction, poetry, drawings, and photographs of personal vision and social themes. Since the series adopted a thematic format in 1980, themes adopted by the series have included the feminine mystique, the beat era, surrealism, science fiction, the working class, baseball, the Vietnam war, psychology and the mind, the epistolary form, the third world, the environment, humor, and the American Dream.
Pig Iron Press also publishes individual author works, to date 26 titles. Most recently, Rag Man, Rag Man by Michael J. Lacivita, treats readers to life in an Italian household in Youngstown during the Great Depression. A 1980 release gathered the last unpublished works of Kenneth Patchen, America's steel-belt born poet, artist, and early anti-war activist. Kenneth Patchen authored over 40 books.
Located in downtown central Youngstown in a three-story restored building erected in 1910, Pig Iron Press communicates with writers; conceives, edits, and designs books; and offers general duplicating and office services to the commercial sector and the general consumer.
Managing editor Jim Villani is a career writer, editor, book designer, and teacher. Educated at Youngstown State University and the University of Pittsburgh, and in the Kent State University system. Has worked in the Ohio Arts Council's Artists-In-Education program. Has edited, designed, and/or printed over 90 books, programs, genealogies, newsletters, and pamphlets. A writer of poetry and criticism, is published in various journals and collections.
The Pig Iron Literary & Art Works, Incorporated.
Pig Iron Press friend organization and fiscal agent, PILAW, is an exempt public Arts Foundation established in Youngstown in 1975 and incorporated in the state of Ohio in 1981. PILAW sponsors literary programs: poetry readings, writing workshops, an annual poetry slam, an annual Youngstown Community Street Festival, and lectures. Your membership in PILAW helps continue and promote the literary arts in The Mahoning Valley.
Pig Iron and Pig Iron Press are Indexed in:
ABA (American Booksellers Association) Book Buyer's Handbook
The Best of the Magazine Markets
The Directory of Poetry Publishers
The International Directory of Little Magazines and Small Presses
Novel & Short Story Writers Market
Ohio Manufacturers Directory
Ohio News Media Directory
Poets Market
Writers Market
---