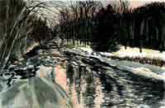 artwork and services
galleries of artwork

portfolio of watercolour, pastel, collage, mixed media and photography
galleries of illustration

portfolio of pen and ink, water media, and digital paintings


attention art directors:
Free cover art!
Attention!:

art editors,
editors of poetry chapbooks,
literary journals,
small presses,
and self-publishing
authors:


my current work is available free of charge to use for your cover art in exchange for 5 copies of your book.
Or commission a unique cover or illustrations at reasonable rates

---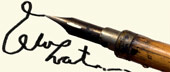 books, essays, poems
Condensed Matter and Other States of Mind -

A Collection of poems by Douglas A. Fowler " The average density of the universe is something like 0.0000000000000000000000000001 kilograms per cubic meter (10-28 kg/m3). One cubic meter of granite weighs some 2700 kilograms. This book's density is 550 kg/m3. Your body weighs in at about 1100 kg/m3, a density that is some 10 million trillion trillion times that of the universe. Our condensation from the void would seem to be the exception; not the rule."




read more
No War No More
-Edited by Arya F. Jenkins "We take a stand for peace, independently and collectively, artistically and politically. In these times it is imperative not to let slip through one's hands the opportunity to say again and again, with whatever means possible, creative and peaceful, that war is wrong, that love is the only path to peace, justice and freedom, and that we will not veer from this path no matter the consequences. This idea fed this project and I hope will feed the minds and hearts of those who share in our efforts by reading this book."

read more

WNWG Presents - "The WNWG is a unique writing club based in Youngstown Ohio. Four authors and friends, each specializing in different genres and styles, have come together to form the Wednesday Night Writing Group. Together, we will take you on a journey into the funny, twisted, macabre and at times surreal realm of our imagination. Join us as we explore the mysterious, the magical, and the utterly absurd as we take you on an adventure through our oft-twisted mindscape."


read more

Greenwood/Blue Lotus Press - "Greenwood/Blue Lotus Press grew out of the ideas and hopes of a few activists in the Mahoning Valley in Ohio. The philosophy of our press is rooted in a Buddhist, environmentalist and social consciousness."


read more

WNWG Illustrations -

artwork commissioned by Youngstown Writers Group...




see more

The Stuff of Creation - an informal primer on municipal solid waste and its connection to the use of natural resources, this multi-media project is written by Doug Fowler ......


read more

Natural Anthem - environmental adventures in inalienableness...


read more
---
The 1991 Volkswagen Vanagon Syncro I once owned
more here

click image to view larger




backpacking on the Big Blue Trail, West Virginia




cyano paper-negative photo, reversed




cyano paper-negative alternative process photo taken with home-made camera (see here)




One of my first cyano paper-negative alternative process photos taken with home-made camera (see here); the van was a good subject because it was a large white reflective object.




cyano paper-negative alternative process photo taken with home-made camera (see here). Above was a straight reversal, this is a desaturated version.

Back to Top



under the catalpa tree in Berks County




wind clears a spot in the drifts to park...sometimes we would get the van up the steep dirt driveway...




...and sometimes we wouldn't...here at the bottom of the driveway.




snowbound in south-central Pennsylvania




the driveway




southeastern PA




brown-eyed susans and artemisia

Back to Top




avocado trees in a row




under the mulberry tree, positively Fourth Street, Appleton, Wisconsin, 2002




fog and snow in Ohio




recalling daze of hippie glory




September 12, Walley Run Road, Crown, PA, 1994




First visit to Toad Hall Studio 3 months after we bought it, at the corner of Oak River Way and Belltown Road, above the Clarion River




Early autumn snow along Belltown Road

Back to Top




1991 vw vanagon




Toad Hall on Belltown




dusting the penguins at the Eastwood mall ---mall getting all ready for Christmas in October (see penguin)




the funwagen June 2006 between trips




syncro




bird's eye view of the roof from the roof




overhead view seven-passenger vanagon

Back to Top




view from above right side of 91 vanagon syncro




October 2007




October 2007



October 2007




October 2007




October 2007

Back to Top




Does anyone know of any methods/plans out there for converting a van into a small permanent camp structure, with wood stove and all? contact me




rear-facing seats popped out. They are a little heavy so I only installed them when I'm hauling lots of people.




1991 syncro vanagon




side door rolled open




rear-facing jump-seats popped out




the wheel of the machine




overhead view

Back to Top




looking in the front window




in the driver's seat




easy walking access from back to front (when I didn't have all my cupholders in place)



looking back, back bench flopped forward




looking out the back




tool compartment under the driver's seat; the jack is stashed here

Back to Top




vw vanagon




storage compartment under the bench seat (back heater is in the middle of it)




bench seat laid flat




bench seat seats three




removable seats folded up




bench seat pulled forward

Back to Top




half of the rubber floor matting is removable (see close-up )




removable jump seats folded up




removable jump-seats folded down




one seat taken out




all seats in and in the locked and upright position, ready for flight take-off to the wild blue yonder!




bed was so comfy and roomy we spent hundreds of nights outdoors in
the van just parked in the driveway! And of course countless nights on camping trips

Back to Top




rear-facing jump-seats folded up--adds a little space




rear-facing seats popped out




the 2 rear-facing seats




1991 vw vanagon




the removable part of the mattress cushion removed (leaning inside)




vw lid off the engine compartment (close-ups of the engine: one, two, three, four, )




towing hook ( see closer-up )




Diana in the Sky with a cloudy van in her head

Back to Top see third page of info