---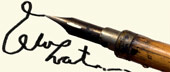 books, essays, poems
blatherings by Di.............more

Newfoundland
KSC Wisdom
Toad Hall log
waxing poetic by Di........more

motorcycle diaries
Mill
Rocks and Birds
writings by Fowler...........more

Sea Change
Common Wisdom
Taking Prints
waxing poetic by Fowler.more

Tree Cycle
Rock On
Wall Wood
Condensed Matter and Other States of Mind
No War No More
WNWG Presents
Greenwood/Blue Lotus Press
---
studio > writing > Solo Through-hike

Journey Through the Pennsylvania Woods

206 Miles

MidState Trail, 1989.

Today we began our hike through woodlands sprinkled with dozens of different kinds of wildflowers. The first mile or two we had a red-tailed hawk crying overhead and spotted 2 scarlet tanagers. Later we saw another.