home
contact
biograph
latest events & news
purchase or commission work
request free estimate
browse archived work
clients
testimonials
FAQ
---
Ludwig's artwork
fine art

painting
drawing
printmaking
illustration

pen-n-ink
photography
digital painting
attention art directors:
Free cover art!
---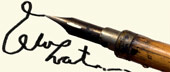 books, essays, poems
blatherings by Di

Newfoundland
KSC Wisdom
Mid-State
Toad Hall log
waxing poetic by Di

motorcycle diaries
Mill
Rocks and Birds
writings by Fowler

Sea Change
Common Wisdom
Taking Prints
waxing poetic by Fowler

Tree Cycle
Rock On
Wall Wood
Condensed Matter and Other States of Mind
No War No More
WNWG Presents
Greenwood/Blue Lotus Press
---
studio > writing > all about chocolate

Maine canoeing Chesuncook and more


Cuxabexis Exploration, Maine
July 21, 2006

Went to breakfast about 7. Went to post office and mailed postcard. Drove to Conovers' North Woods Ways outsided Willamantic. Their large barn building is filled with all kinds of wonderful things, pulleys and drapes, lots of things from Lehman's non-electric store. They helped us—the people on the trip: Barbara from near NYC, Tom & Judy from Montana, and Neena from Salem Mass. & us get our stuff bagged and underway. There was a giant ziplock bag of gorp (nuts and chocolate and raisins) for each of us labeled cheerily with each of names like schoolchildren which was a great reassuring way to start things off. Gary drove their van to Greenville and ?, a giant outdoor shop and ShopKo grocery for some of the groceries. There was a big slate business in the first town. Then up northward on endless miles of private dirt timber roads. We stopped at a waterfalls and rapids for lunch on the rocks. I kept falling asleep due to being up very late packing and cleaning. So I missed several of the wildlife sightings including a grouse family and some moose loping about.